Begin Your Education Abroad Experience!
Interested in education abroad, but not sure how to get started? Check out Education Abroad's website for information about the education abroad process. You can search all of our program options by clicking on "Programs" in the upper right hand corner of this page.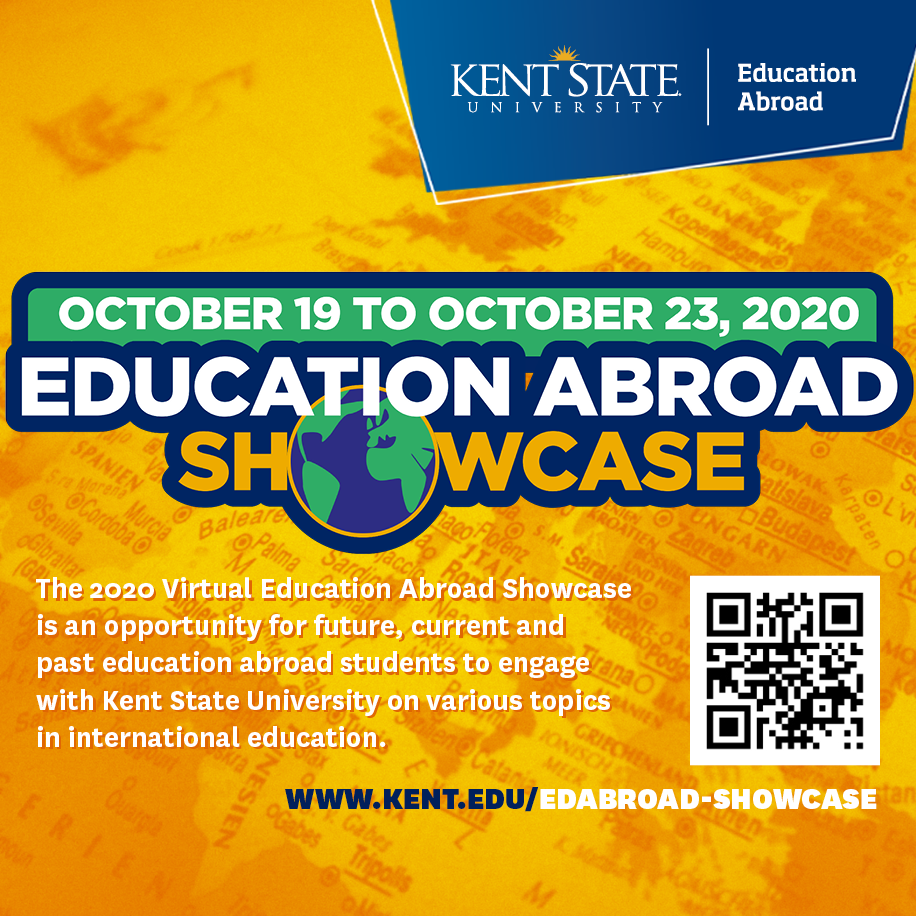 The
2020 Virtual Education Abroad Showcase
is an opportunity for future, current and past education abroad students to engage with Kent State University on various topics in international education. The Showcase will feature live and pre-recorded events and activities to education students on the why, how, and where of studying abroad, while also providing programming for returnee students. The Showcase is an opportunity for students to explore the academic, personal, and professional development opportunities available through education abroad at Kent State.
To view the full schedule of live and recorded virtual events, please visit www.kent.edu/edabroad-showcase.​
---
Applications are now open! Please refer to our application instructions for a step by step guide on how to apply.

Additionally, you can schedule an advising appointment to meet with an Education Abroad Advisor. An advisor from the Office of Student Financial Aid is also available for scheduled appointments.

ADVISING SCHEDULE - WE HAVE SWITCHED TO KSU ADVISING BY APPOINTMENT
PLEASE NOTE: Education Abroad Advising is now available on KSU Advising. To make an appointment with the appropriate Education Abroad Advisor, please see the list of advisors and the programs that they oversee below and the calendar of times that they advise. Once you determine which advisor to meet with, please go to https://advising.kent.edu/ScheduleAppointment?groupId=538 to schedule your advising appointment.
Questions about using your financial aid to study abroad?
Contact Jessica Russell, Financial Aid Counselor for Education Abroad, at
jrusse33@kent.edu.
In-person advising has been suspended. Please see the schedule below and work with your Education Abroad advisor to schedule a phone or video advising meeting. After you have scheduled an appointment through KSU Advising, your Education Abroad Advisor will provide you with a Google Meet link to join via video or phone call.
Monday
Tuesday
Wednesday
Thursday
Friday

9:00AM to
11:00AM




Molly Papay



Sara Morato

Education Abroad 101
(weekly times will vary - see schedule below)



Kristina Spangler

Education Abroad 101 (first Friday of the month - see schedule below)

11:00AM to
1:30PM

No Advising


1:30PM to
4:00PM

Sara Morato


Kristina Spangler


No Advising

Molly Papay


No Advising
If you would like to speak to an advisor about a specific program, please see the Staff Directory below, which lists the programs that each advisor specializes in. Once you determine which advisor to meet with, please schedule an appointment through KSU Advising. If you need general/ just-getting-started advising, please schedule an appointment with any advisor. There will not be walk-in advising during fall 2020; instead, the Education Abroad team will be hosting Education Abroad 101 information sessions on Wednesdays and select Fridays. Please see the schedule below.
---
Education Abroad 101
Beginning in fall 2020, students will be able to join the Education Abroad Team for a weekly Education Abroad 101 information session, followed by Q&A. Please see below for session dates and times, as well as the information to join via Google Meet. You do not need to pre-register to attend Education Abroad 101.
Wednesday Sessions
- Join us at
meet.google.com/zhu-zvrn-hhs
or call in (US) +1 908-991-6739‬ PIN: ‪636 222 264‬#
September 30 from 11:30AM - 12:30PM
October 7 from 9:30AM - 10:30AM
October 14 from 10:30AM - 11:30AM
October 21 from 11:30AM - 12:30PM
October 28 from 9:30AM - 10:30AM
November 4 from 10:30AM - 11:30AM
November 18 from 11:30AM - 12:30PM
December 2 from 9:30AM - 10:30AM
December 9 from 10:30AM - 11:30AM
December 16 from 11:30AM - 12:30PM
Friday Sessions
- Join us at
meet.google.com/rbh-duif-mcp
or call in (US) +1 470-485-9852‬ PIN: ‪536 852 252‬#
October 2 from 12:30PM - 1:30PM
November 6 from 12:30PM - 1:30PM
December 4 from 12:30PM - 1:30PM
---
Staff Directory
Amber Cruxton
Director, Education Abroad
Advises for Faculty-led Programs outside of Italy, Kent State in Salamanca
By Appointment Only (please email to schedule an appointment)
acruxton@kent.edu
Phone: 330-672-7975
Sara Morato
Assistant Director, Education Abroad
Advises for Kent State Prague, Dankook University, PUCPR -Brazil, ISEP, Paris American Academy, Regent's University London, Xi'an Summer Program, American University in Cairo Summer Program, Third-Party Programs
Advising Hours (by appointment): Mondays: 1:30 PM - 4:00 PM; Tuesdays: 9:00 AM - 11:00 AM
smoratoq@kent.edu
Phone: 330-672-7984
Kristina Spangler
Education Abroad Advisor
Advises for Kent State Florence Programs, Kent State Geneva, Direct-Enroll Programs, Faculty-led Programs in Italy
Advising Hours (by appointment): Tuesdays: 1:30 PM - 4:00 PM; Thursdays: 9:00 AM - 11:00 AM
kspangl6@kent.edu
Phone: 330-672-0912
Molly Papay
Education Abroad Advisor
Advises for Exchange Programs [Australia, Austria, Canada, Colombia, Egypt, Finland, France, Germany, Hong Kong, Israel, Japan, Portugal, South Korea, Spain, Taiwan, United Arab Emirates, United Kingdom]
Advising Hours (by appointment): Mondays: 9:00 AM - 11:00 AM; Thursdays: 1:30 PM - 4:00 PM
mpapay1@kent.edu
Phone: 330-672-3067
If you have a general question, you can email edabroad@kent.edu or call 330-672-7980. You can also find our staff information here: https://www.kent.edu/globaleducation/education-abroad-staffadvising-hours